Gone are the days where VR was either too expensive or too complicated for widespread adoption. With headset sales a staggering 1507% higher than predicted in 2017, the technology is set to revolutionise the way we engage with digital content. From simple product demos, to intricately crafted VR games and narratives, marketers have a whole new medium to explore…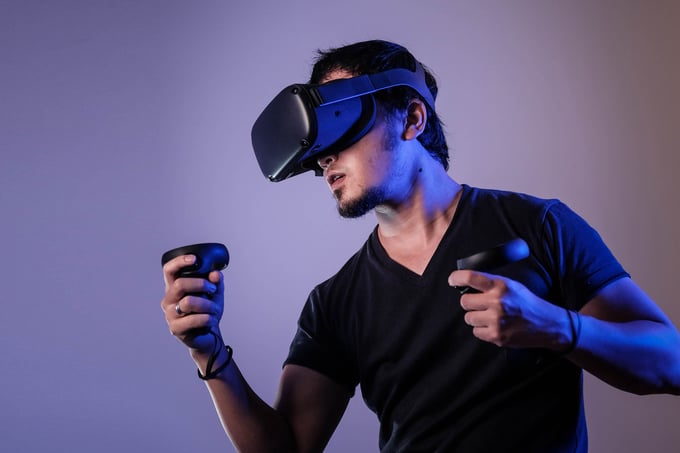 Few people forget the first time VR really clicks, when they put on a headset and find themselves utterly engrossed by the experience. This sense of immersion is VR's crowning glory, and the very thing that makes it so appealing to companies and marketers alike.
The potential has always been there, but it's only recently that the benefits have seemed so readily apparent. Consumers want emerging technology, and with the widespread adoption of VR comes the opportunity to give it to them.
The figures back it up, with 62% of consumers claiming that they would feel more engaged by a brand sponsored VR experience. Likewise, 71% said that they perceive companies harnessing the technology to be more forward-thinking.
This enthusiasm, coupled with the immersive nature of VR, presents a phenomenal opportunity for companies to diversify their marketing capabilities. In doing so, those very companies could see themselves gain a significant competitive advantage.
This advantage stems from the discrepancy between traditional advertising and VR experiences: the former is avoided by consumers, the latter pursued. Case in point, a person who uses an adblocker would likely still jump at the chance of a VR tour or showcase.
In practice this means that a tool now exists which can guarantee engagement. With the VR industry expected to be worth $53.6 billion by 2025, it's no surprise many companies are beginning to recognise its disruptive capabilities.
So how can companies and marketers make the best use of VR? In its current state there are three main benefits:
1. Immersion
Immersion is the bread and butter of VR. Whether it's to communicate complex ideas to stakeholders, or demo expansive apps and games, for a short while you have an individual's undivided attention.
Leveraging this attention for the purposes of explaining or selling a concept is then rather straightforward. VR enables experiences entirely devoid of outside distraction, a godsend in our fast-paced age of information overload.
2. Flexibility
Virtual reality allows you to create experiences ranging from the mundane to the mind-boggling. This affords a lot of flexibility, which can be used to create perfectly tailored pieces of marketing material.
Explaining or selling a concept can be much more effective when the environment has been designed with a specific purpose in mind. It's also flexible in the sense that physical location becomes irrelevant. Want a business proposal on Mars? Go right ahead!
3. Scalability
It used to be that VR was prohibitively expensive, but now the technology is accessible to practically everyone. With companies like Google, Samsung, and Oculus offering cheaper headsets, the barrier for entry has never been lower.
That isn't to say that the potential for a cutting-edge, ultra-high-tech experience isn't there. An advanced headset like the HTC Vive or Oculus Quest running from a powerful computer can make VR truly shine.
In summary
As the sum of its core benefits VR has the potential to revolutionise not only engagement — but the way we tell stories outright.
It's an exciting prospect for all of us here at Luxid. With narrative and messaging focused marketing on the rise, 2020 is set to be a great year for VR storytelling.
If you want to get ahead of the curve, we're always here to lend a hand.