Managing the MarTech stack becomes more and more difficult as time flies by. There are countless technology solutions available today designed to support every aspect of a businesses' digital marketing efforts. An unfortunate side effect of this abundance of innovative technical products is that MarTech stacks can become bloated, expensive and difficult to manage.
In our experience, the old saying 'less is more' often rings true when attempting to build an efficient and effective stack. Of course, it's fair to assume any enterprise-grade stack is going to be complex but there is always more a company can do to limit the degree of complexity in its technology stack.
According to a study conducted by Statista 44 percent of companies in UK, US, and Canada indicated having between five and 10 tools as part of their marketing technology stack. Six percent said their MarTech stack consisted of 21 or more tools.
If that sounds familiar, keep reading.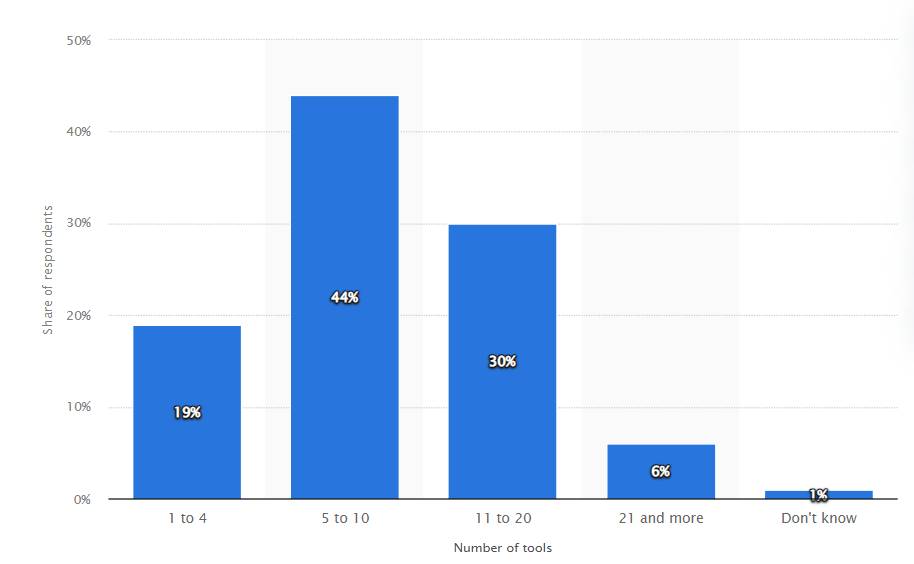 How did we get here?
If more tech means more time lost and more money spent, why are companies using up to twenty-one or more different tools to power their marketing?
A few possible reasons for why this might be the case are:
Integration woes: Every company dreams of having a scalable technology infrastructure. For that to happen, the solutions within that ecosystem need to be talking to each other. Integrability is king but companies often lose the crown when their tools are unable to share data with one another.
Migration: It's a little ironic that the first step of building a flexible infrastructure to house your MarTech stack, one that can scale and adapt to changing demands over time is normally a massive, often disruptive migration process. Water-tight planning is needed to keep such migrations as painless as possible and it can be difficult to achieve without impacting productivity.
Data layer management:

The complexities of your data warehouse and unified data variables across tools can make introducing a new tool or platform a bit of a waking nightmare. To make matters worse, when you identify a promising new tool you'll need to be sure it works well for your company. This means you need to purchase and pilot it whilst continuing to pay for the previous tool until you can get your staff trained up.
The importance of budgeting: Budgetary allocation has a drastic impact on all 3 of the reasons listed above. In cases when it is not planned well enough, budget allocation issues can lead to both over and under-spending. According to The Company Warehouse, 9% of startups don't budget at all and according to Legal Zoom "Depending on the industry, marketing budgets can range from as low as 1%".
Turn that frown upside down
It's not all doom and gloom. Here are five rules or things to think about to help you minimise some of these challenges:
1) Choose your core for the future:
Your core tools are the ones that all your other systems rely on e.g. your data warehouse. Selecting which tools will form the core of your MarTech stack starts with taking a complete audit of your current technology, partnerships, and identifying critical technology requirements while having an awareness of how said requirements may evolve in the future.
2) Plan your core for change:
Ensure you have an effective system in place for tracking, unifying, and naming data variables across all markets so that future migrations are cheaper and more efficient.
3) Be flexible:
Change is going to come so be ready for it. A prime example is the type of server or infrastructure you're using. Many tools, like Adobe Experience Manager, Tableau, or Salesforce, will upgrade your software automatically if you're running through their cloud or managed services solution. This enables you to spend less time worrying about managing infrastructure or the need to buy a new version of the same tool every year.
4) Make your migrations fast:
Weigh up the cost of running 2 tools for 6 months versus hiring a specialist to help ensure a fast migration in 1-2 months. Consider hiring external trainers to train just a small number of staff members who can then train the wider team.
5) Categorize your tools:
Taking a step back and looking at your 'tool arch' is something many businesses fail to do regularly. Every company has unique objectives but they will usually fall into one or more of the 5 categories below:
Operate
Acquire
Engage
Create
Optimise
Make sure every tool in your stack is actively contributing to one, ideally more than one, of these objectives. If it isn't, cut it loose.
There you have it, five tips to help you build an efficient, cost-effective MarTech stack. Let us know if you might be in the market for more tips by dropping us a message!