As a result of the pandemic, consumers were driven online, and there's no sign that this will change anytime soon. This unprecedented change to the market has challenged brands to respond quickly with innovative consumer experiences to meet this new demand.
Fortunately, recent technological developments continue to provide businesses with opportunities to differentiate themselves. But just standing out from the crowd isn't enough to establish long-term customer relationships.
In this blog post, we'll discuss some of the top priorities for your marketing strategy and customer experience plans for 2022.
1. Data-driven, actionable insights
Data is key to revealing important insights into consumer behaviour which can be leveraged to improve customer communication.
Whilst personalisation is often dismissed as a buzzword, a relatively small percentage of businesses have implemented successful programs to provide their customers with relevant messages and offers at the right stage of their journey.
Obviously, successful customer personalisation doesn't just happen by itself. You need to have the capabilities in place to build and deliver unique, relevant, one-to-one experiences for your customers. So, how do you achieve this?
The answer starts with accurate, relevant, and actionable data. Your existing data alone is very likely not enough but it's a start. You need to have the tools to analyze and make your data useful.
This is where a Customer Data Platform (CDP) comes in. One of the many solutions in the rapidly growing CDP space is the Adobe Experience Platform (AEP).
In a recent virtual session during the Adobe Experience Makers event, Real Madrid described its goals and the benefits of using Adobe Experience Platform. With AEP Real Madrid has been able to evolve its brand from being just a 90-minute sport event to a global cultural community. Working with 100 million club supporters, the mission is to treat them as unique individuals instead of a homogenous group of fans. Thanks to data-driven insights, Real Madrid can build close and unique relationships with fans in real-time.
"We need to think about the relationship we have with the fans" -Michael Sutherland, Chief Transformation Officer at Real Madrid
With AEP you can centralize all your business into one platform provider. This offers the exclusive opportunity to take full advantage of the data you gather and provide a tailored experience for your accurately targeted customer segments.
2. Adopting and leveraging new technology innovations
Innovative marketing technology provides new opportunities for creative thinking. With plenty of uninspiring and dull ads out there already, any business can find exciting ways to leverage new applications to its advantage.
Taking a hybrid approach to work using brainstorms and trial and error is key to generating ideas for creative marketing campaigns and customer experiences powered by new technology.
VR & AR - add something extra to reality
Virtual Reality (VR) was originally designed to change the gaming world — enabling gamers to immerse themselves in expansive virtual spaces. VR has already started to spread to other industries as well, giving companies a whole new tool to explore and add to their marketing activities.
With both VR and Augmented Reality (AR), you can bring your brand and message into your customer's physical environment.
Some of the biggest multinationals are taking VR seriously making huge investments and some even rebranding completely (see Meta).
It's clear that VR and AR have potential across all industries and should definitely be taken into consideration as part of your customer experience and marketing plans.
3. Social media - the crown jewel of online interaction
With ever-growing social media usage, you need to be where your customers are. Content that captures your audience's attention and meets customer needs is essential for success.
Don't think of social media as just for advertising, its role these days extends across customer care, community engagement, and continues to see growth in the social commerce space.
Your social media presence should be considered as a meeting place with your customers where you can bring your best in branding, get your community and fans excited about your latest offerings, and create excellent customer service experiences.
Consider the relevance of your content and the quality of the experiences you provide. Videos, photos and social interactions that resonate with consumer behaviour and embrace your company's values and brand are key; but also add a human touch to your marketing and communications. Today, visibility in social media is crucial. For example, a 2021 study from Hootsuite and We Are Social found that younger generations now turn to social platforms and touchpoints to research brands more than search engines.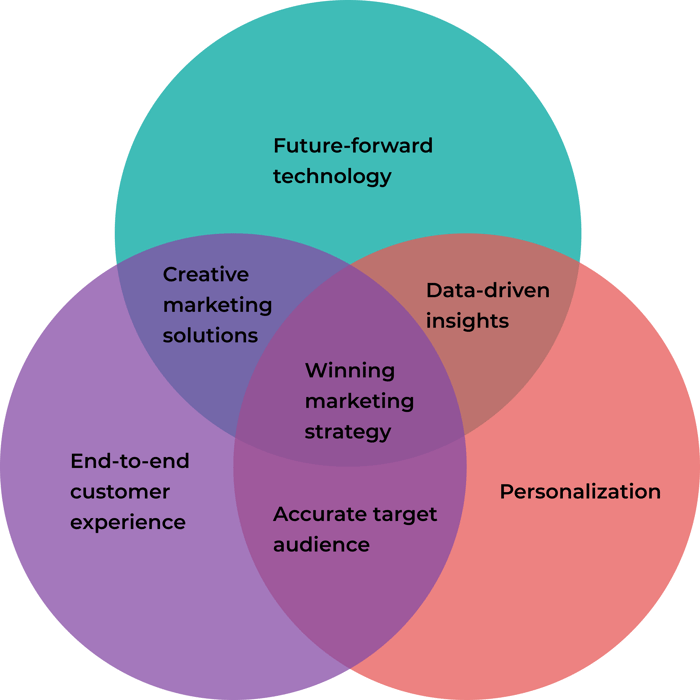 In a nutshell, whatever your approach, your marketing and customer experience priorities in 2022 should be driven by data and new technology, and definitely consider taking your planned activity in social. Customers want more relevant personal experiences and are looking to interact with brands in different and exciting ways.
At Luxid, we have the expertise, knowledge and ambition to help you take your planning and activity to the next level. So please feel free to reach out to us or see some of our projects below.
References & further reading: